Chairman Message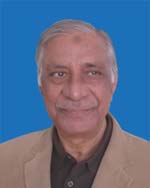 The Sialkot Dry Port Trust is the pioneer of dry ports in the private sector, provides export / Import facilities at doorstep to the exporters / importers of the region i.e. Sialkot, Gujranwala and Gujrat by one window operation. It Handles exports worth Rs. 90 billion annually, which is 20 times more since it was commissioned. Committed to excellence, efficient services and with latest equipment this port is progressing by leap and bounds.
It has contributed in enhancement of exports to help strengthen the economy of Pakistan and sinceinception; it has progressed to such an extent whereby it has established itself as the busiest Dry Port in the country. SDPT has developed its own fleet of 100 customs bonded vehicles which is the first largest Bonded Carrier in private sector and 4th overall after the Pakistan Railway, National Logistics Cell and PIA, all three in the public sector.
This trust is providing numerous administrative facilities including provision of vicinity for office establishments, to state owned enterprises including Collectorate of Customs, NLC detachment, Clearing & Forwarding Agents, PRAL, National Bank of Pakistan and Duty Free Shop from its own sources. Sialkot Dry Port Trust is keeping pace with technological advancement in Information Technology and is providing Online Tracking Facility to its valued customers who can access information of cargo in transit through the Internet. The one window operation has facilitated the exporters by ensuring clearance and dispatch of export consignments on the same day.
The Sialkot Dry Port Trust is providing custom clearance facilities round the clock to the exporters and importers at their doorstep and is continuously in an effort to provide the best possible services to boost the industry of this region. It is playing its role as a service oriented organization and keeping close liaison with its clients to resolve any issues faced by them.The management of SDPT is always in an effort to create competitiveness with the market to acquire more import / export business of the region and regular meetings are arranged with the clients and agents to provide services to their complete satisfaction.
State of the art arrangements are available at SDPT for the safe and sound transportation of cargo.For security purposes, all activities are monitored with cameras round the clock and proper records are maintained. Security staff is deputed to examine every activity in field for surveillance of the whole process.A very effective monitoring system of Trackers is installed in all bonded carriers for minutely monitoring of vehicles en route through satellite and concerned staff is deputed 24 hours for the same which updates the forwarders regarding location of theirconsignment.
To make the operational work smooth and timely, certain facilities for handling, loading / offloading of containers are provided. These facilities include Fork Lifters, ComputerizedCranesand Reach Stacker. The quality of these facilities can be assessed with the fact that there has been no slowdown of operational work since inception of Sialkot Dry Port Trust.
Various terminal offices in Lahore, Islamabad and Karachi operate under the head office at Sialkot to handle the export / import load of the region and the transit of cargo is completely insured to any loss en route. We have breakdown solutions on our fleet in case of accident; spare vehicles are dispatched to transport the cargo at destination.
The Process of handling of export and import cargo from arrival to dispatch is entirely computerized as well as billing of all export and import to avoid manual errors. For the secrecy of documents, we have security codes on our computers and all the information of our clients is kept secret.
The Dry Port management is seriously considering to provide package facility to the exporters and importers whereas the Dry Port will take full responsibility to deliver the export consignments to their shipping lines or airlines in case of export as well as clear and deliver the import shipments at the doorstep of the importers in case of import.
I request all stakeholders and exporters to get benefit from the facilities we are extending to enhance the exports and imports of this region.